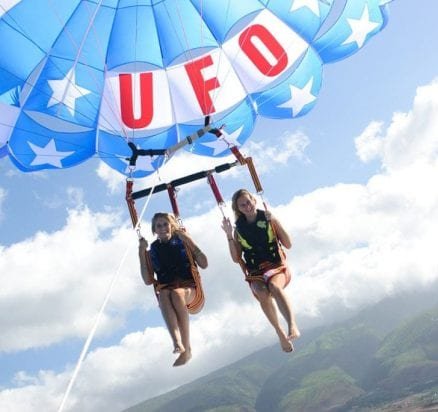 UFO Parasail-800 ft Early Bird Special
$71.10 BOOK NOW
Best Price Guarantee
Parasailing in Maui first thing in the morning when the air is fresh, the winds are calm and the ocean is still is an experience all to itself.
The early bird specials are perfect for those of you who have just arrived and are still waking up on mainland time. Located in either Lahaina or Kaanapali, you can start your day soaring in the sky followed by a great breakfast at the resort or on Front St..
So join us today!  Just follow the Book It link below to get started scheduling your Maui activities and Maui tours.  We appreciate your business and would love to have the opportunity to serve you!
Parasailing in Maui is seasonal and only operates from May 16th through December 14th. Maui Parasailing is closed during the whale watching season.
Guaranteed Lowest Prices!
Call Toll Free: (855)-268-0387
Booking
Select your choice
Best Price Guarantee
E-Ticket Delivery
Free Cancellation