Road to Hana Tours (Guided or Self-Guided)
The Road to Hana spans the Hana Highway and is made up of approximately 620 curves and 46 one lane bridges (Many dating back to 1910!) This top Maui adventure guides you through lush emerald rainforests, cascading waterfalls, stunning coastal views, black and red sand beaches, and much more. Many of our clients always want to know, should we drive it ourselves or should we take a guided tour? That's a great question, so we've broken it down for you.
Advantages (and Disadvantages) of Driving Yourself to Hana
Personally, I've been to Hana over 10 times in the 7 years that I've lived on Maui and here is what I've learned about maximizing this experience. First of all, decide if you're going for the day or longer. If you're just going for the day and you are considering driving yourself, keep these things in mind. There are over 50 highlights of the Road to Hana, you could spend a year along this magical road and not see everything, so narrow down what you want to see. For the adventurous waterfall chasers, focus on spending your time at a few of the major waterfalls locations, Twin Falls or Bamboo Forest at mile marker 6.5. You can spend hours on these hikes going to some pretty amazing waterfalls without driving all the way to Hana. Bring swimsuits and clothes you don't mind getting dirty because you will. If you're driving yourself to Hana and are more interested in the culture along the way, you'll wanna take it slow and keep your eyes open for places like the Garden of Eden or Hana Ranch. You'll also want to go down to Keanae Peninsula for some world-famous banana bread. My recommendation for those driving themselves? Choose what you want to see beforehand or book a room at Travaasa or Hana Bay and stay overnight. It's a long day to spend in the car if you want to cover the whole road in one day you'll need to move quickly between stops. If you're lucky enough to find the Venus pools, we recommend making this a highlight of your day, it's really a special place.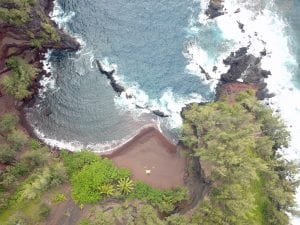 There are many Road to Hana tours on Maui to choose from, each offering a different twist on this classic Maui activity. Personally, I have found that the extra dollars for a smaller, more intimate tour with a company like Mahalo Tours or Hana Tours of Maui is totally worth it. Keep in mind, that with all Road to Hana tours, you will be getting all of the best highlights along the way with a local expert. This is as much an educational journey into the older cultures of Hawaii as it is an intimate look at a stunning ecosystem in the middle of the Pacific Ocean. I used to think that my friends and I would be better at finding the special places along the way, but I learned after taking a tour that nothing compares with having a local who loves the land show you the way. While the time you get to spend at each stop is shorter than if you were to only see 4 or 5 things on your own, taking one of these guided tours will really give you a broader scope of what the Road to Hana is all about. Many of our clients request private tours of Hana and we have those available as well.