Lahaina Cruise Company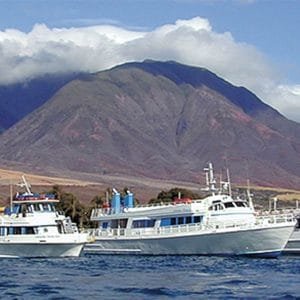 Lahaina Cruise Company is a locally owned and operated excursion company that has been in operation for over 35 years. The company is based out of the historic Lahaina Harbor. Lahaina Cruise Company serves Maui's residents and visitors through educating them about Hawaii's marine life.
Hawaii Ocean Project
Lahaina Cruise Company has a division known as the Hawaii Ocean Project. This is the part of the company is responsible for educating all patrons about Hawaii's ecosystems, endangered species, and marine life. This organization proudly supports the efforts of the most legitimate research efforts and general well being of the Humpback Whale.
Lahaina Cruise Company offers educational whale watches with trained naturalists on their charters. This is how Lahaina Cruise Company is able to share their love and knowledge of Maui's marine environment. The support of all tour guests goes to help the continued marine research efforts. Most notably 100% of all gift shop proceeds since 2011 have gone directly to research.
Lahaina Cruise Company and the Hawaii Ocean Project have committed to finding new ways to create awareness and organize grassroots efforts. So the ultimate goal of protecting and conserving the environment and land for future generations.
Lahaina Cruise Company achieves their goal of helping future generations by donating to the local community. This is done with fun and educational excursions with charitable organizations and schools.
Exploring Maui's Marine Life
Many of the tours offered by Lahaina Cruise Company greatly impact the goals of the Hawaii Ocean Project. This includes the obvious activities such as Whale Watches. Other adventures offered include Romantic Sunset Dinner Cruises and various Snorkeling Tours too! So if you are considering a marine activity Consider Lahaina Cruise Company and Maui Tickets For Less for the best deal guaranteed. Book online or call 855-268-0387 to start your adventure.
Call Our Toll Free Phone Number At 855-268-0387 Or Click Here To Email Us About Your Maui Activities And Tours.