Te Au Moana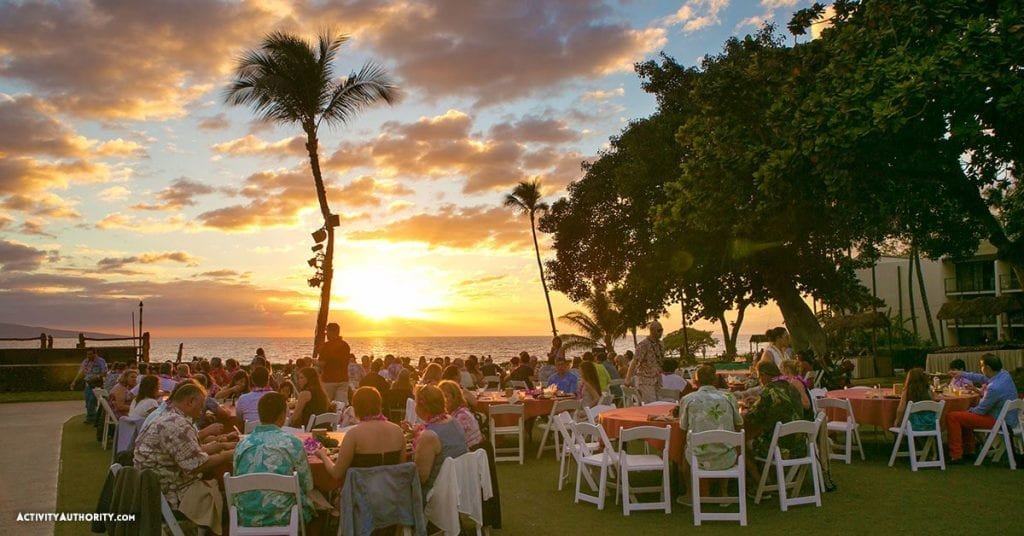 Te Au Moana, means "the ocean tide", has been a constant throughout Oceania, connecting the island and people for generations. This Luau, hosted by the Wailea Marriot, is a spectacular experience like no other. This traditional Hawaiian family-style Luau is a feast for the eyes and stomach.
Experience the Tradition
Tihati productions has been recognized by the White House as one of the most authentic and entertaining Luaus across the Hawaiian Islands. Te Au Moana is one of Tihati's best productions and as a result of that it deserves a quick look if you are at all interested in attending a Luau.
Fresh flower Leis greet you upon arrival as you are dazzled by original handmade Hawaiian arts and crafts. The gorgeous oceanfront setting of the Luau sets the stage for an interactive fun-filled evening. Audience participation is thoroughly encouraged. Also, there are Pre-show activities such as temporary tattoos, live tiki carving and more. Once the show begins your host will take you on a journey through the history of the Hawaiian islands. Experience Authentic Hawaiian dishes representative of the earliest peoples of Hawaii. Many of the other Luau pre-prepare the Kalua Pua (Kalua Pork), which is prepared in an Imu (underground oven). Witness the extraction of the pig from the Imu, followed by its preparation by the chefs at Te Au Moana.
The show itself is action-packed with story, song, and dance. There is hula dancing, fire dancing and much more in store for those who attend Te Au Moana. The cast of this Tahiti production never ceases to impress. According to all review sites Te Au Moana is among the best Luaus on Maui. Located in the Wailea area makes it a stand out with its combination of production and immaculate views. If you and yours are looking for a Luau you must Consider Te Au Moana and Maui Tickets For Less guaranteeing the best deal. Book online or call 855-268-0387
Call Our Toll Free Phone Number At 855-268-0387 Or Click Here To Email Us About Your Maui Activities And Tours.