Ho'okipa Beach Park
Check out the video HERE!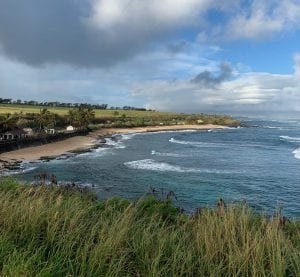 The Highlights
Ho'okipa Beach Park and Lookout is a deceptively tranquil stop along the Road to Hana just past Paia Town. This location has breathtaking views and waves to match. The world-renowned windsurfing spot has gained quite a bit of attention due to its reef system creating spectacular breaks. The winds at Ho'okipa, especially in the afternoon, provide the perfect conditions for professional windsurfing competitions. If you decide to get in the water for a swim or surf make sure you're skilled enough, the waters here can be quite unforgiving. The beach is a daily stop for Green Sea Turtles. So even if you stay out of the water you can see some amazing marine life. Stay back though, the on sight naturalist will make sure that these protected animals have their space.
Word of Caution
Ho'okipa means "hospitality", but as mentioned before, the surf and wind here draw professional attention for a reason. Only the most seasoned surfers and windsurfers are acclimated to this beach. It is not the best spot for swimming either. With a large reef system and many turtles in the water snorkelers often times find themselves caught in rip currents. In short, just be safe and pay attention to the surf warnings before getting into the water.
Directions to Ho'okipa Beach Park and Lookout
1. To reach the beginning of the route to this beach, use google maps to navigate to the park directly. If you're using a regular map you'll want to head towards Kahului Airport if coming from the West Side or Kihei.
2. It is mile Market 8.8 on the Hana Highway (Highway 36)
3. The entrance is on the left-hand side.
Enjoy and Let Enjoy
Before you leave this amazing and scenic natural landscape, remember that the beauty of this magnificent beach is very fragile. Treat it with respect it deserves. Help preserve this rare eco-system by remembering to remove anything that you brought with you. There are no trash facilities or disposal services at the beach. It is important to be conscientious and maintain the magic you've experienced here. Help future visitors experience the same sense of awe and wonder that you have just enjoyed.