Twin Falls – Road to Hana Guide
---
The first stop along the road to Hana and a must see is Twin Falls. This location is family owned and operated by the Wailele Farm. This privately owned stretch of land is generously open to the public.
Directions
1. Head towards Paia Town
2. Near Mile Marker #2 you'll see a bridge.
3. To the right of the bridge there will be a large dirt parking lot with a fruit stand.
*If that lot is full there is a second parking lot over the bridge.
*Don't leave valuables in your car.
The entrance to Twin Falls is on the left side of the fruit stand.
---
Area Information
This stop has picture-perfect waterfalls, is great for hiking, and swimming too!
The lower falls near the entrance are what this spot is named after the "Twin Falls". These falls are relatively small compared to the other ones at this stop so make sure to see them all!
There is a mile long uphill hike along the Ho'olawa stream.
The hiking route is a loop that splits into the left fork, Ho'olawa li'ili'i, and the right fork, Ho'olawa nui.
Along the left fork is an irrigation ditch which you can wade across or walk along the ditch wall. This leads you to a popular waterfall site known by locals as the Caveman. This picturesque oasis is filled with lush vegetation!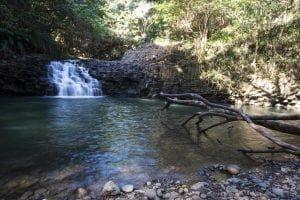 For the adventurers out there the right fork has a rock wall that is relatively easy to climb that leads to a place rarely seen by the nearly 300,000 annual visitors. There are many opportunities to jump off of rocks of different heights into pools of water…
BE SAFE!
When stopping to enjoy the falls make sure to pay a visit to the Wailele Farmstand. They are the caretakers of the land that the Twins Falls are located on. The proceeds and donations of this stand go towards maintaining the trails and roads in the area.
The best way to enjoy twin falls and the Road to Hana is on one of Maui's land tours. These are guided tours that are informational, comfortable, and far less stressful than making the trek yourself in a rental car.
For more information about these tours and other activities on Maui checkout out the links below!