Blue Water Maui Sportfishing
Blue Water Maui Sportfishing is a one of a kind experience. This action sportfishing adventure uses the troll fishing method while out in the breathtakingly beautiful waters of the Maui coastline. Anglers of all experience levels can partake in some of the best sportfishing the world has to offer!
Deep Sea Fishing
Departing from Lahaina harbor, once a bustling town for whalers and fisherman, Blue Water Maui Sport Fishing continues some of the age-old traditions in a modern and actions packed way. As a leader in Maui sportfishing, these charters take place on Maui's #1 highliner, Blue Water Maui. This Boat is well equipped for catching the targeted fish species that live off of Maui's coastline. Mahi Mahi (Dorado), Wahoo (Ono), Yellow Fin Tuna (Ahi), Striped Marlin, and Blue Marlin are what you can expect to catch on these sportfishing tours.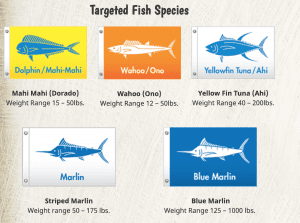 All the game fish caught happen on the troll. This style of fishing is when one or more lines are baited with lures or fish and drawn through the water behind the boat. The rods are placed in holders and set to varying distances behind the boat and are held apart by outriggers to avoid line tangling. Depending on the weather conditions the trolling speed and line distance vary. While trolling the ideal bait position is skimming just along the surface of the water. This mimics the behavior of an injured or fast-moving fish which attracts the big game anglers seek!
Blue Water Maui Sport Fishing offers trips that range anywhere from 2 to 9 hours in length. The Troll Fishing Charters are some of the most popular on Maui, so make sure to book in advance right HERE! For world-class fishing in world-famous locations with a group or on your private charter, you should Consider Start Me Up Sportfishing, and Maui Tickets For Less guaranteeing the best deal. Book online or call 855-268-0387
Call Our Toll Free Phone Number At 855-268-0387 Or Click Here To Email Us About Your Maui Activities And Tours.