— Parasail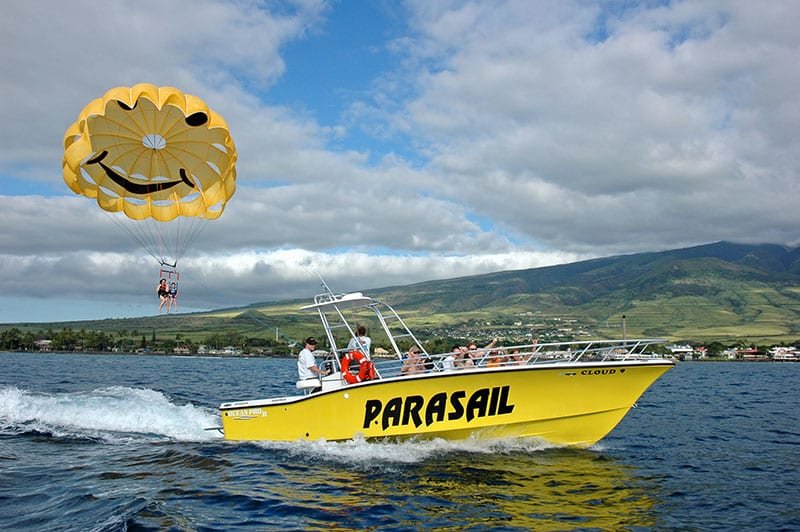 Crew and Vessel
— Parasail is known as the home of the "Thrill ride in the sky". Formed in 1985,  — Parasail has been operating parasailing excursions for over 30 years.  Comprised of two locations, one at Lahaina Harbor and another at Kaanapali Beach.  This impressive company has successfully completed over 200,000 parasail flights! Guests are invited to parasail during the summer season between May 16 through December 14 each year.
The Vessels of choice for this powerhouse parasailing expert is Ocean Pro 31′ Parasail Boats. Not only the best in class, but these boats can also fit up 12 passengers are a time. Safety is always the top priority.  As such, the boats are inspected each year by the U.S. Coast Guard.

Flying High
Flying with — Parasail is a  must-do activity. For some, the thrill of having a solo Parasail is the most exhilarating way to go. For others, Tandem is a more comfortable choice. Fortunately, — Parasail offers both options. For guests who like to experience activities earlier in the day, there is an early bird and noon parasail. This parasail excursion offers both 800 as 1200 foot lines. Each of the boats can carry between 6 and 12 passengers.
In addition to the early pre-noon trips, guests are invited to also participate in parasailing anytime between 9 am and 4 pm. These hourly parasail trips are a great alternative for late risers. These trips also have the option for single or tandem riders with 800 or 1200 foot lines.  — Parasail knows how to fly, and is a fun and memorable experience for everyone in the family to enjoy.  As always, Maui Tickets For Less guarantees the best deal. Book online or call 855-268-0387 to start your adventure.
Call Our Toll Free Phone Number At 855-268-0387 Or Click Here To Email Us About Your Maui Activities And Tours.