Looking For A Beach in Maui?
From pristine white-sand beaches to rugged stretches of sand fringed with dramatic cliffs and rainforests, Hawaii's island of Maui has a stretch of sand for every beach-lover. Offering 120 miles of coastline, there are plenty of beaches that fringe the island of Maui, more than any other island in Hawaii. But with so many choices, where do you start? We're here to help you with our list of the 11 best Maui beaches. It's time to hit the beach!
Hamoa Beach
A remote setting in paradise framed by a beautiful forest.
Along the famous Road to Hana sits Hamoa beach. Hamoa beach stretches over 900-feet long, featuring dusty grey sand from the craggy black-lava cliffs that surround it. Half-moon-shaped and fringed with verdant jungle, the beach is perfect for water activities and sunbathing.
With sublime natural beauty, there's no doubt that Hamoa is one of the island's most beautiful beaches. Admire the lush forests of the Hala trees, the wide sandy shore, and the deep emerald-green waters. Snorkelers should venture to the left side of the beach that boasts calmer waters.
During the winter months, the surf breaks offshore, attracting surfers and bodyboarders alike. However, it's important to note that Hamoa Beach is unprotected, meaning that it's affected by the forceful ocean currents, especially during the rougher winter conditions.
Hamoa isn't protected by reefs, which means during the winter the surf can be very strong. If you aren't an experienced surfer or swimmer, it may be best to paddle in the shallow water or enjoy the ocean views from the shore when the water appears rough.
Honokalani Beach (Black Sand Beach)
An exotic destination on the remote Hana coastline.
Who'd have thought that a black shore could be so beautiful? For a visit to a unique beach, head to Honokalani. Featuring dark sand, sparkling blue water, and tropical jungle, Honokalani makes for dazzling photographs.
The black 'sand' isn't sand at all. It consists of teeny tiny lava pebbles that from a distance looks like black sand.
Unwind on the moody shore or discover the seaside lava tubes and sea caves carved into the cliffs. Wild, rugged, and untouched, this is certainly a unique Maui beach to explore.
Secret Beach
Not to be confused with the secret beach on Kauai Island, Maui's secret beach is found hidden behind a lava rock wall in a small and quiet residential district. It's so secret, that even the sign for it is easy to miss.
Intimate, peaceful, and tranquil, Secret Beach is as sweet as its name suggests. And while public nudity is illegal in Hawaii, the Secret Beach is unofficially clothing-optional. Just a heads up! Look for Poolenalena Beach in Wailea, park in that parking lot and take a right following the trail around the corner. Poolenalena Beach is a favorite beach for photography, we recommend these Maui Family Photographers.
Baldwin Beach
A North Shore favorite. Great for long walks, snorkeling, swimming and seeing turtles.
Baldwin beach is found near Paia Town which sits on Maui's North Shore. More popular than the other beaches listed so far, Baldwin Beach is a great family-friendly option. The shore is fully equipped with everything from bathrooms and showers to barbeques and picnic areas, offering fabulous conditions to make a day of it.
There's even a region on the beach named 'Baby Beach' due to a big reef on Baldwin's Western tip that provides a shallow and sheltered pool that's perfect for the little ones to frolic in. It's also closed to one of Maui's best restaurants, Mama's Fish House.
No kids? No worries. Baldwin Beach boasts fantastic surfing conditions and dreamy sunsets too. Whether you want to relax and soak up the rays for the day watching the on-duty lifeguards, or you'd like to combine Baldwin Beach into a coastal walk, there's plenty of ways to enjoy this stunning stretch of sand. Behind Baldwin Beach is one of the most prestigious communities in all of Maui, Spreckelsville. The homes and lots in Spreckelsville are stunning.
Afterward, head to the local boutiques and restaurants for a spot of shopping and to fill your stomach after a hard day of relaxing.
Keawakapu Beach
Great beach for snorkeling, scuba diving, and enjoying a great sunset.
Want to avoid the touristy beaches? Then check out Keawakapu beach, which lies safely hidden between Wailea and Kihei. The soft golden sand is ideal for lounging, strolling, and sunrise yoga. The latter takes place most mornings and is a great way to start the day.
If you love snorkeling, head down to the Southern end of the beach to duck beneath the waves and to discover the marine life that thrives beneath the water's surface. For those staying nearby at the Mana Kai, Wailea Ekahi, or Palms at Wailea, this is the perfect beach to call home.
Scuba divers can also travel out to explore a man-made reef which lies about half a mile offshore which draws in plenty of colorful fish species and sea turtles.
Olowalu Beach
One of the largest coral reef systems in all of Hawaii makes for epic snorkeling.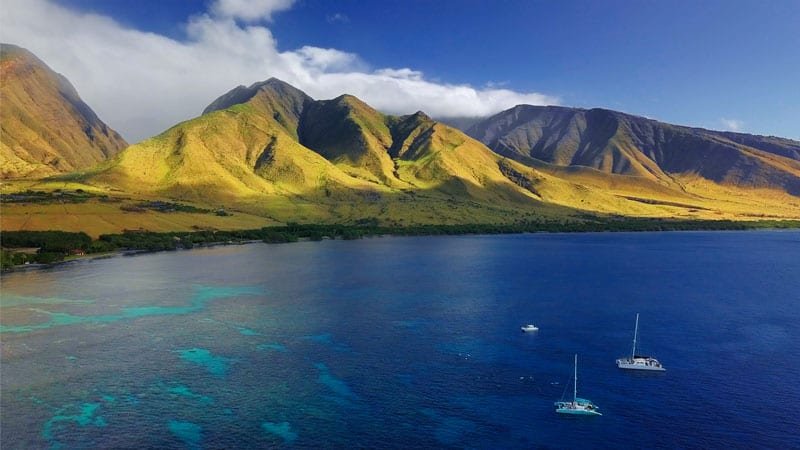 For more turtle action, head to Olowalu Beach, affectionately known as 'turtle reef'. A huge number of green turtles live in the area, and the reef system here is one of the most vibrant and varied in Hawaii.
Attracting over 20 species of marine life, snorkelers are in for a treat as they cruise the waters observing the reef underneath. New to snorkeling? The good news is that the swimming conditions are pleasant year-round, making it a great spot even for inexperienced snorkelers. While there are no facilities or lifeguards on the beach, the waters are usually clear, calm, and safe for swimmers.
Take a break from all that underwater exploring with a lie down on the brown-sand shore that's fringed with green jungle and foliage.
Big Beach
A favorite of locals and visitors alike. An iconic beach on Maui's southern shore.
With the lush 165-acre Makena State Park looming behind, Big Beach is one of the best beaches in Maui when it comes to exquisite natural beauty. Aptly named, Big Beach stretches more than a mile long and is 100 feet wide from the sand to the water's edge. That may mean you have to walk a bit to swim! Just past the Wailea Resort district where the Andaz Maui and Marriott resorts are, close enough to make it convenient, but far enough away to feel in nature, Big Beach is on everyone's best beaches in Maui list.
Remote and undeveloped, this is one beach where you can truly be alone. Enjoy the fine silvery sand and the refreshing turquoise waters and grab a book to unwind for the day. Views of Kahoolawe on the water and of Haleakala on the mountainside create a perfect setting. Just seeing the Makena real estate along the way there is worth the drive down, wow!
Wailea Beach
A luxurious setting offering all the amenities you would expect of a world-class destination.
If you're after glitz, glamour, and excitement, head to the sandy shores of Wailea beach on the Southwest coast of the island. Home to the renowned Four Seasons Resort Maui, Wailea beach is where the stars come out to play. And when you look out to the beach, you can see why.
Boasting golden sugar-like sand and inviting blue waters, the beach offers beautiful views of the Molokini Crater and the islands of Lanai and Kahoolawe.
If you visit during the winter, whale-watching is a must-do. Watch the gentle giants migrate through the waters during the colder months for a remarkable wildlife experience in one of the most stunning areas of the United States.
If you're planning to base yourself in Wailea (lucky thing!) then apart from the Four Seasons Resort, other options are the A Waldorf Astoria Resort and the Ho'olei at Grand Wailea.
Oneloa Bay (Ironwoods)
Tied into the Kapalua Coastal Trail, Ironwoods is usually one of the least crowded West Side beaches.
Forming a crescent-shaped cove and featuring pale sand, Oneloa Beach also known as Ironwoods is a beautiful, relaxed, and quiet, despite its growing popularity. Protected by two reefs, the water is tranquil and calm, offering ideal conditions for snorkeling and swimming during the summer and surfing during the winter.
The Northern end of the shore offers great visibility, and there's plenty to observe beneath the ocean's surface. Keep an eye out for butterflyfish and spotted Moray eels that frequent the waters.
Thinking of staying close to Kapalua? The Ritz-Carlton and Montage Kapalua both offer comfortable and relaxing stays in the region. It's also close to the Kapalua Plantation Golf Course where the Sentry Tournament of Champions is played every January.
Kaihalulu Beach (Red Sand Beach)
An exotic and invigorating destination. One of Maui's hidden treasures.
Another unique beach to visit is the rust-red Kaihalulu. The shores are found at the base of a lava cinder cone which gifted the sand it's signature vivid coloring.
The perfect shot for Instagram, the vibrant hue of the sand contrasts spectacularly with the sparkling blue waters. The sea is calm and protected here, offering another great spot for snorkeling and swimming. If you do opt to enter the water, just be careful of the cliff-jumpers that leap from either end of the cove. If you'd like to stay nearby, the Travaasa Hana is a lovely option.
Ka'anapali Beach
This luxury resort area features one of the most iconic Maui beaches.
Last but not least is the Ka'anapali beach, home to three miles of soft white sand and glimmering blue water. Packed with resorts, Kaanapali beach is the most popular beach in West Maui, but for a good reason.
While the beach is certainly gorgeous to look at, there's also plenty to do. This includes snorkeling in the refreshing waters to leaping off Black Rock, a 16-foot cliff on the Northern tip of the beach. If you dare to jump, keep an eye out for green sea turtles that are drawn to the area.
Ready to Visit The Best Beaches in Maui?
Whether you're after a wild and rugged shoreline with nobody else there or you'd prefer a buzzy and popular stretch of sand, these are some of the best beaches in Maui to visit.
If you're a beach bunny, why not visit all of them if you have the time? Each beach has a unique feel and atmosphere to it, and you'll have a different experience with each that you visit. If you've decided to call Maui home, you can also check out the condos for sale on Maui here.
Keen to get out on the water and make the most of Maui's beautiful coastlines? Check out our selection of Maui ocean activities so you can take home special memories from your trip.