Black Sand Beach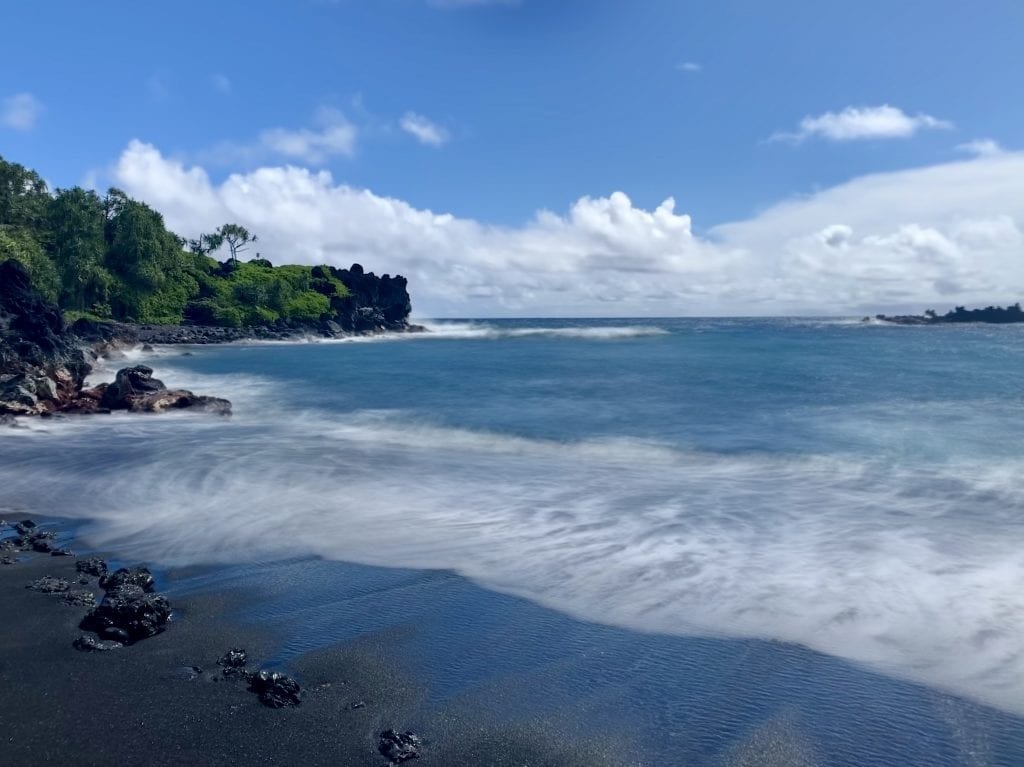 The Highlights
Black Sand Beach or Pa'iloa Beach, is one of the most popular stops on the Road to Hana. This beautiful beach is located in Wai'anapanapa state park and is the number one reason people come to visit. The beach was created from the combination of rough surf and lava flows from the volcano Haleakala. The beach itself is actually made up of small stones that have been smoothed over by the waves over time. The contrast of the crystal clear waters and glistening black stones is a must-see for anyone going down the road to Hana. This beach is a perfect spot for tanning, jumping in for a swim, and there are plenty of places to explore. There are lava tubes, trails, forests and much more throughout the park.
Word of Caution
Although immensely beautiful the surf can become strong. The same waters that formed this wonderous beach affect the area to this day. Pay attention to water and other visitors. If the majority of them are not swimming there may be a reason for it. The water is also frequented by jellyfish and Portuguese man o war too.
Y- Rock, as it is called is for the most adventurous of visitors to Wai'anapanapa state park and black sand beach. This popular cliff jumping site is a brief swim across the anchialine pools of the area. Be aware that as the surf intensifies swimming to the rock and seeing where it is safe to jump becomes more challenging.
Directions to Wai'anapanapa State Park and Black Sand Beach
1. Take the Hana Highway (Hwy 360) towards Hana Town.
2. It is at Mile Marker #32
3. GPS Coordinates: 20.788616,-156.003687
Enjoy and Let Enjoy
Before you leave this amazing and scenic natural landscape, remember that the beauty of this magnificent beach is very fragile. Treat it with respect it deserves. Help preserve this rare eco-system by remembering to remove anything that you brought with you. There are no trash facilities or disposal services at the beach. It is important to be conscientious and maintain the magic you've experienced here. Help future visitors experience the same sense of awe and wonder that you have just enjoyed.