The Road to Hana is infamously known around the world for its waterfalls and luscious jungle. This road is a 62 mi road full of natural breathtaking beauty.
The road to Hana has a whopping 620 turns and 59 one-lane-bridges. I always like to say, there are really only two turns: left and right but there are lots of them. If you get motion sickness, make sure to drive yourself, bring ginger chews to help ground the stomach, or wear a pressure bracelet that will reduce your likelihood of being nauseated.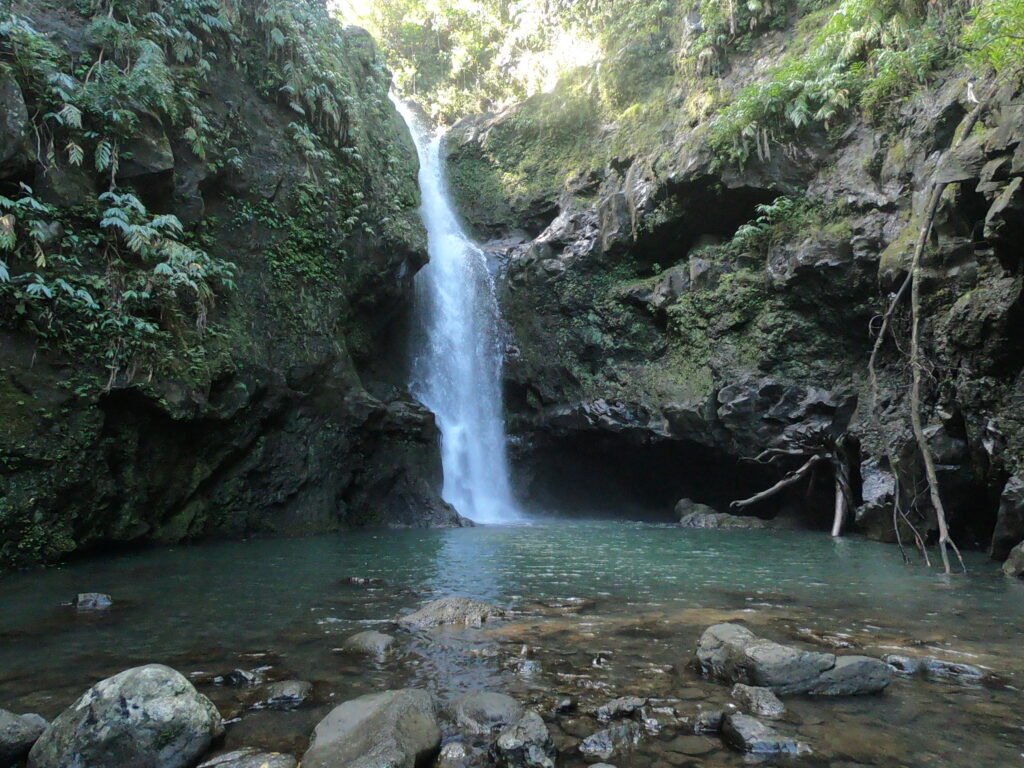 1. Ho'okipa Lookout
Ho'okipa Lookout is actually before the road to Hana begins. It is a beautiful lookout overlooking one of the north shore's most popular surf bays on Maui. This beach is known for its surf and turtles; during winter, the swell gets rather large, producing waves up to 20-30 ft, leaving the visitors with quite the surf spectacle!
Ho'okipa is also known for its many turtles that like to sunbathe along its shoreline. There can be as many as 40 turtles sunbathing at a time. They may appear to look like rocks from a distance but as you get closer you will notice the turtle tracks leading to their position.
2. Twin Falls
Twin falls are the first two waterfalls you'll see at mile marker 2 on the road to Hana. This is a family-friendly hike; ages from 5-65 can hike the trail. The hike is roughly 20-30 min until you see the first waterfall and is considered to be an intermediate trail. Twin Falls is a perfect place to cool off in the freshwater before continuing your journey on the road to Hana. Lastly, there is a coconut stand right at the entrance of twin falls so don't forget to grab yourself one to go!
3. Rainbow Eucalyptus Trees
If you haven't heard of them before you don't want to miss them! These magnificent trees get their name from the multi-colored bark on the tree. These trees can grow up to 250 ft tall and are quite the eye-catcher. They can be seen right off of the road slightly around mile marker 6.5 on the road to Hana. You must park off of the road to walk to them. It is a short 5-10 min walk depending on how far away you park from the trees.
4. Ke'anae Peninsula Point
Ke'anae is a beautiful little town slightly after the "Halfway to Hana" between mile markers 16 and 17. The peninsula offers picture-perfect views of all of the east Maui terrain. It gives you a good idea of all of the twists and turns that you just journeyed through. It is also a good stop for restrooms or banana bread! The town has one of the biggest taro farms on the island and attracts people from all around the world for its majestic views.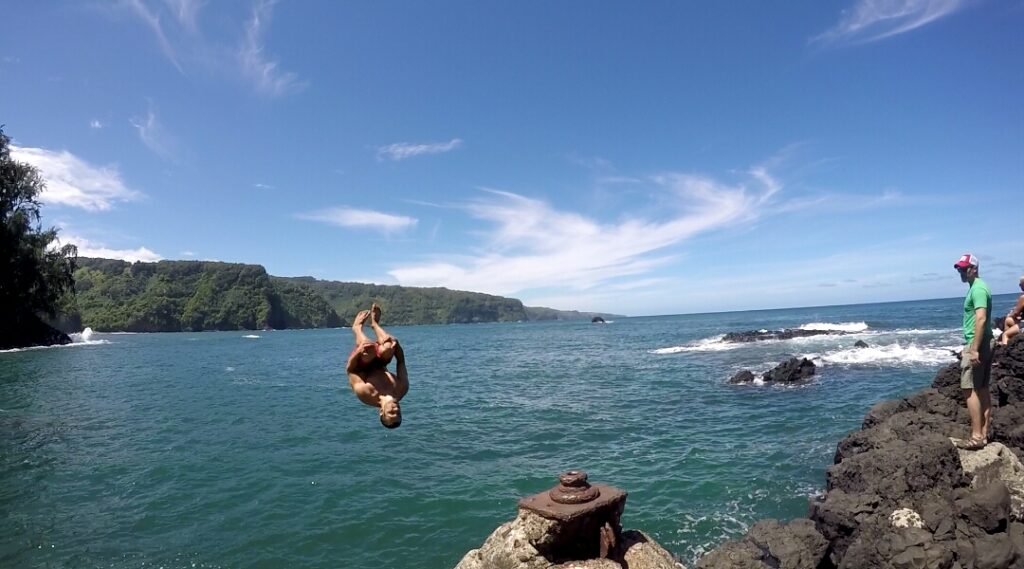 5. Waianapanapa State Park
Wainapanapa State Park is where Maui's famous black sand beach is. It is located right before you reach Hana Town on mile marker 32. Waianapanapa allows visitors by reservation only. Reservations can be made on dlnr.hawaii.gov and they are fairly inexpensive for the pass. However, getting reservations can be problematic. It is best advised to make your reservations before getting to Maui to guarantee you and your family the chance to see the beauty of this black sand beach.
6. Hana Farms
Hana farms arguably have the best banana bread off of the road to Hana! They are right after Wainapanapa state park around mile marker 35. They are a well-known farm that offers its guests many different exotic fruits, homemade jams, and coffee. By this point on your journey, you will likely be hungry for snacks, a full meal, or maybe thirsty for a nice cup of coffee to keep your energy levels where you want
them to be!
7. Red Sand at Koki Beach
Koki beach is a red sand beach located right in Hana town. They are well known for their Huli Huli Chicken Stand and the Koki Island that you can see offshore. It is a great place to enjoy a taste of Hawaiian food with some Hawaiian views. There are some tables and some beach chairs available for couples or families to sit and eat while taking in the scenery.
8. Homoa's White Sand Beach
Homoa is a beautiful white sand beach slightly after Hana town. The beach has limited parking but is a gorgeous beach. It has unique turquoise blue waters that complement its white sand. There are restrooms, tables, and plenty of shaded areas. The waters can be rough at the beach depending on the time of the year. Generally, summertime has calm waters, and wintertime will have rough waters. Please be weary upon entering the waters as there is no lifeguard on duty. Remember the saying on Maui when in doubt DON'T GO OUT!
9. Haleakala National Park in Kipahulu
Haleakala National Park is roughly 30 min after Hana town. The park is known for two things; Oheo Gulch a.k.a "The Seven Sacred Pools" and the Pipiwai trail hike to Waimoku Falls. The seven sacred pools are seven pools formed by freshwater that continuously drop into the next pool until they reach the ocean. Most visitors love to swim in them to get their fresh water fix. Sometimes the pools can be closed due to weather and flash flooding.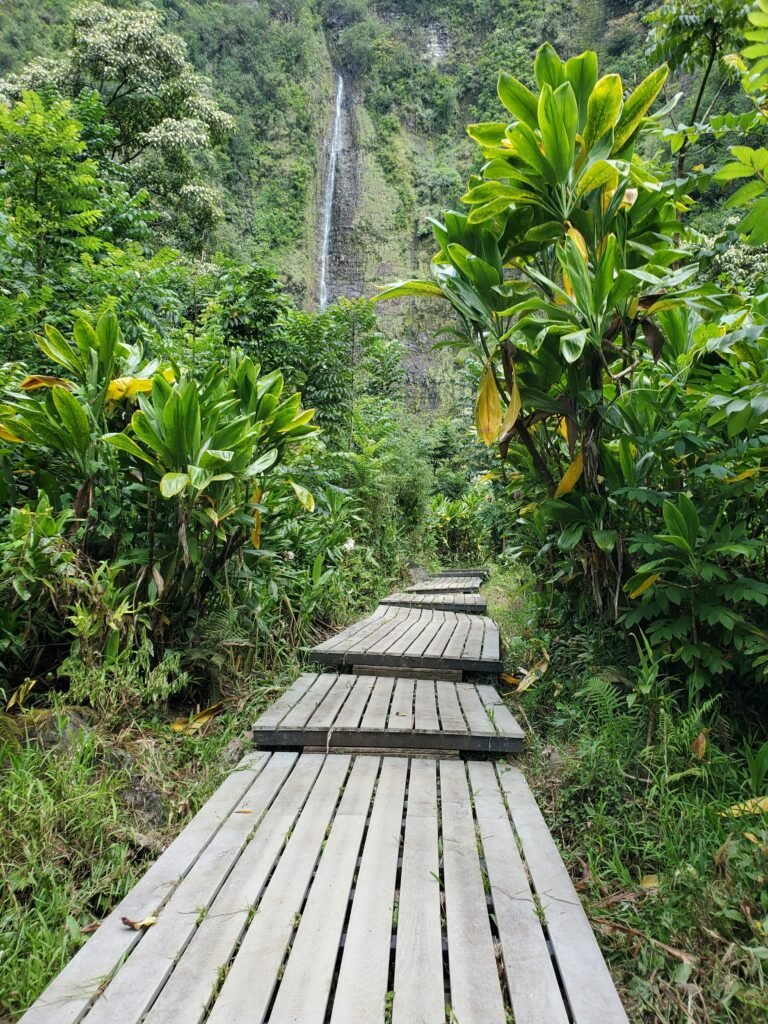 The Pipiwai trail is roughly 1.9 mi one way making it a total of 3.8 mi roundtrip. This hike generally takes 2.5 to 5 hours to complete. It is not known to be difficult but its distance would put it past an intermediate hike. Throughout the hike, you will journey through luscious greenery, a bamboo forest, waterfalls over a bridge, and lastly a massive 400 ft waterfall!
10. Kaupo
Kaupo used to be the most populated area on Maui back in the 1800s. Nowadays, it is used as a scenic alternative versus driving back through the twists and turns of the Road to Hana. It has beautiful landscapes of the volcano stretching down to the shore along with many lava rock formations sprinkled throughout the old town. Be cautious of the cattle that roam freely, sometimes you will have to wait for them to cross the road, just be patient and enjoy the show!
Before you go!
I hope these 10 stops will help make your road to the Hana experience a memory of a lifetime. I always like to tell my friends and family that visit our lovely island, if you haven't done or seen the road to Hana, then you haven't seen Maui!