Farmer's Markets on Maui
Maui guarantees to re-energize all those who set foot in the land. Surrounded by pristine waters and sandy shores, a feeling of calm takes over as we relax by the ocean-side, whilst the soft ocean breeze seeps through our hair, smoothening our tangles. Suddenly it isn't merely the hair being ruffled by the cool air, but also the knots of our mind which seem to be unraveling.
Maui Has a Wealth of Locally Grown Produce
When in search of fresh and organic produce in Maui, there is a wide collection of Farmers Markets, all excelling in providing products of the highest quality.
Hawaii has been importing about 80-90% of its food for a long time. This is a large proportion, and thus exhibits a great risk for the local population. If for any reason, Hawaii is unable to import food, the conditions of the islands could become worse – possibly resulting in the need for rationing, and even famine in extreme cases. Thus, arose the need to take subsistence farming a step further, by bringing the fertile soil of Maui in use. As farmers began to growing fruits and vegetables, the fresh produce was admired and desired by most who visited the land. Thus, it came as no surprise when Farmers Markets began to spring up.
One of the best features of the markets is that they are available in most towns on Maui. Thus, you do not have to travel long distances in search of fresh food. A market or its variant is always available a few blocks away (or even steps away, if you book a hotel nearby!).
The people of Maui believe fresh and quality food products are to be enjoyed by everyone. Whether you are a vegetarian in search of some delicious vegan dishes, or a fruit-aholic craving the season's wonders, at a Maui farmers market, you get all such things and more.
Wondering which are the best local farmers' markets? Wonder no more.
Maui Swap Meet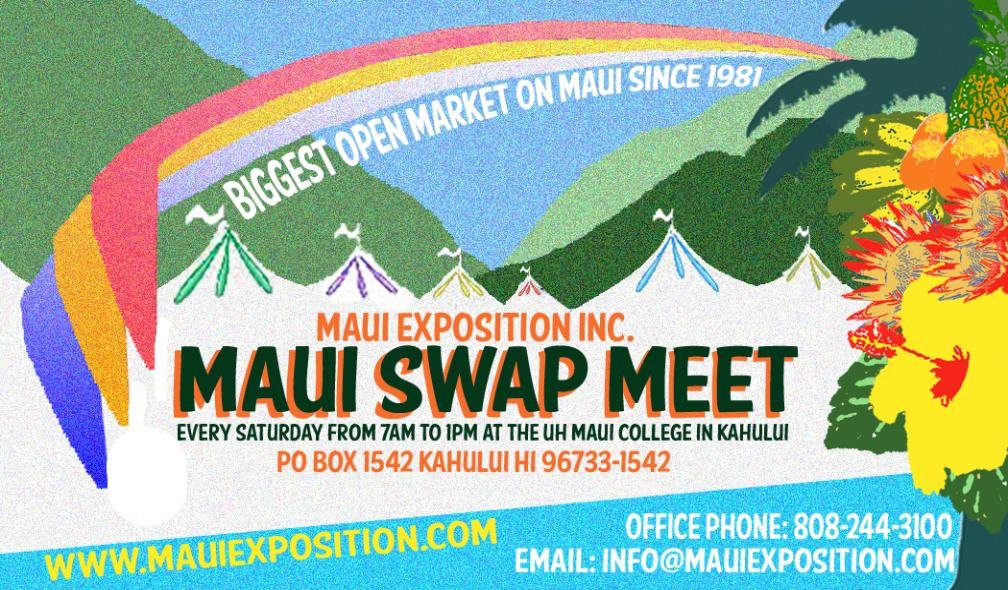 A visit to Maui is incomplete without a visit to the Maui Swap Meet on Saturday morning. Located in Kahului at the college, this market stays open from early in the morning until late noon i.e. 7 am to 1 pm. The best way to enjoy the market is to go early in the morning and still until late. Do not worry, because you certainly will not get bored in the Maui Swap Meet. Instead, there are many shops to explore and products to buy, such that time would simply fly by.
The market has over 200 vendors putting their products on display. From scrumptious fruits to fresh vegetables, meats, fish, and baked goods name it and you shall receive at the Maui Swap Meet. Stock up on the freshest products of the season to make a delicious dish at home. Or if cooking is not your sort of thing, the food trucks at the farmers market are present to satisfy your snack cravings. Get piping hot food whilst shopping for the latest produce.
If you only have time to go to one farmer's market when visiting Maui, the Maui Swap Meet is undoubtedly the best choice. For a meager fee of $0.5 to enter and children below 12 entering for free of cost, the excursion is not only fun but very economical too.
Upcountry Farmers' Market
If you are in search of the oldest farmers market of Maui, your search ends here. With diverse locations each time, the market continued to travel throughout Maui with the passing of time, to ensure people living all around the island would get to enjoy the fresh local produce. Currently, it has settled at the Kulamalu Town Center and sets up every Saturday for 4 hours. If you want to fully explore the market, you need to get up early and be there before the crowds arrive.
The charm of the Upcountry Farmers market lies in it being 'upcountry'. This means it stays true to its Hawaiian roots, providing scenic views and a wide variety of traditional goods on offer. There are approximately 50 vendors, however, each sells something somehow different than the other, thus making the market widely unique from other usual ones. Whether the purpose of your visit is to stock up on some freshly caught seafood, or you are enticed by the locally produced baked bread, each is available in a wide variety. You can also find macadamia nuts, local honey, some fresh pure white coconuts, passion fruit butter, and the insanely famous Maui coffee.
If you are short on time and are juggling between going souvenir-shopping and visiting the farmers market, there is no need to worry. The Upcountry Farmers Markets charms its way through our pockets with the localized gifts it provides. Buy some arts and crafts courtesy of local artisans or purchase the everlasting presence of tropical flowers and seedlings. With a product from the Upcountry Farmers Market, you can never go wrong. Close to the beautiful community of Kula, with many great farms, you're sure to love the upcountry farmers market.
Kumu Farms Market
Feeling sad that most farmers' markets are only open on Saturdays? There is no reason to get your hopes down so soon. Kumu Farms Market in Waikapu sets up from Monday to Saturday for a longer time from 8 am to 4 pm. Not a morning person, even though you like purchasing all things fresh and organic? Visit this market in the afternoon when you have caught up on sleep, and experience the joys of purchasing local produce.
The market exhibits about 35 freshly grown in-season crops in total. These are grown in a fully organic manner in none other than the Kumu Farms themselves at the Maui Tropical Plantation. Located in Wailuku, these farms span approximately 60 acres of fertile land producing delicious goods. Even though the crops are dependent upon the current season, you can mostly find macadamia nuts, mint, parsley, and flavorful fruits the likes of avocado, pineapples, apples, bananas, etc.
Love to haggle your way to a purchase? Visit the Kumu Farms Market on a Saturday to enjoy low prices and high quality – a must-have combination indeed.
Maui Nui Farmers' Market
If you love traveling upcountry, you will find the 40-acre Maui Nui farm on your climb to Haleakala National Park. Owned by a son and mother, the farm is very unique in terms of the products they sell and the services they offer. Open from Thursday until Sunday from 8 am to 5 pm, the farm has long attracted travelers already going elsewhere on the Haleakala slopes, or those who visit this farmers market especially for the great variety of products it offers.
The crop varies at this Maui Farmers Market from succulent squash options to tasty fruits like avocados, strawberries, papayas, and bananas. If you are going in search of vegetables, you can find those of the highest quality ranging from leafy greens like lettuce to zucchini, gold potatoes, etc.
Maui Nui Farmers Market differs from its usual counterparts with the other activities it offers other than merely shopping of fruits and vegetables. Wondering what could that be? Head to the farm on a Saturday or Sunday, or as locally known, the 'Family days at the Maui Nui farm'. These days, you can pair your shopping with a free tour of the farm, whilst live music plays in the background, soothing your nerves, and making the purchase experience a whole lot better. Do you get hungry when you shop? Nui's freshly made Thai food is bound to tantalize your taste buds.
Visiting as a couple? Surprise your better half with fresh island flowers from the farm – be it the gorgeous orchids, or elegant water lilies. Love certainly doesn't need a time or place to be exclaimed, even if it is in a farmers' market.
Hana Fresh Farm Stand
If you want your visit to Maui to be a meaningful one, and are searching for ways to make a difference, plan a visit to the Hana Fresh Farm Stand in Hana. Located between highway mile markers 34 and 35, the Hana Farm encompasses seven acres, growing about 100 different types of produce. However, what differentiates Hana from the rest is that the proceeds of the farmers market go to the Hana Health Initiative. This is a health center built in Hana to tend to the illnesses of those unable to obtain healthcare elsewhere. Whether they are constrained by financial factors, or those of the geographical kind, the health and wellness center does not differentiate between patients. With a simple aim of caring for the community, its farmers market plays an integral role in collecting the funds to treat patients. Thus, visit the Hana Fresh Farm Stand, not only because the produce is fresh and delicious, but also because it is for a greater cause.
Love going shopping when you visit a foreign land? This time, go for a different kind of shopping – fresh produce shopping. Enjoy!