Once the whole Coronavirus thing is over, don't miss out on one of the hottest hangout spots on Maui, the Maui Brewing Company brewery and restaurant. This craft brewery has a wonderful atmosphere, great food, and of course, some delicious craft beer. Maui Brewing Company has become a fixture in the craft beer world and you'll see it featured on many of our tours and activities such as the Maui dinner cruises and Maui luaus.
A Dream Comes to Life
Co-founded by Garrett Marrero, who moved to Hawaii at the age of 26, Maui Brewing Company began as a single brewpub in 2005. Having visited Hawaii from San Francisco he fell in love with the place and kept yearning to find a reason to go back. He found the reason when he asked for a beer in Maui. There was no locally produced beer, and people would be offered a beer brewed somewhere else, off-island. Here was the opportunity Marrero desired – and he got the idea of Maui Brewing Company.
However, short on finances, he could not make the first move. This was when his girlfriend, Melanie Oxley decided to pitch in with her saved money. While sitting in front of a computer in her monotonous finance job, she felt she needed to do more, be more – this was when the idea given by Marrero took her heart.
Humble Beginnings
Money from their savings, some financial help from their families, and a loan later they had arrived in Maui in 2004 to set up their dream of a local brewery in Maui. As all dreams begin small, so did theirs. In a single, small brewpub, Maui Brewing Company opened its doors to the world on 28th January 2005. The response to the beer was phenomenal, and soon Maui Brewing Company needed a newer, bigger space. In 2007, a separate production facility was made to produce and package different varieties of beer, which soon made their way to retail stores.  
Marking the start of something phenomenal, the remaining ride for the Maui Brewing Company was nowhere but up. Rising facilities, greater production, varied collections, and many awards later, the beer from this local brewery has become a must-have when visiting Maui.
Maui Brewing Company Expands
The massive expansion touched some of the main towns of Maui, thereby ensuring everyone on Maui was able to experience the taste of a locally produced beer. Currently located in 4 towns across the state of Hawaii, you will find stores of Maui Brewing Company at Lahaina, Waikiki, Kailua, and the ever-famous and important Kihei. The driest end of the island, Kihei has noted for its gorgeous beaches and the island vibes. Thus it would only make sense for there to be a good brewery in town, so that the visitors who come exploring in search of some time of peace and solitude, are able to further fulfill their thirst by the tasteful sodas and locally-brewed beer. Their location in Kihei is certainly one of the best Maui restaurants around. If visiting Kihei, you will find the Maui Brewing Company at 605 Lipoa, Pkwy. Want to call beforehand? The phone number is none other than (808) 201-BEER (2237).
However, your visit to the restaurant may feel confusing due to the wide variety of beers and sodas available. With 18 flavors of beers available, and 7 further choices in canned beer to take to the beach (or elsewhere), you may feel overwhelmed with the number of options available. Confused which one to try in the limited available time? Allow us to tell you about the most popular options, to ensure you make an informed choice, and one according to your likes:
Made with six different varieties of malted barley and topped with hand-toasted coconuts, the taste of this brew is unlike any other. As you begin with the first sip, an array of flavors greet you like an old friend, one after the other. It starts with a malty-toasted coconut aroma, after which you can taste hints of dark malt, coffee, and refreshing chocolate. However, the last flavors which stay on your taste buds long after the drink has finished, are the toppings of hoppy spice and toasted coconut.
If you have been in search of a Belgian-inspired brew, your search ends here. The La Perouse White is freshly brewed with wheat and the very special European Pilsner malts. Topped with some coriander, and paired with beautiful local Mandarin oranges, the La Perouse White is certainly the drink for the high and mighty.
If you are craving an American-style beer, this locally produced Wheat Ale is a wonder to enjoy. Mixed with Maui Gold Pineapple, the drink is slightly hopped. This not only gives it a better texture but also allows the sweetness of the Pineapple to come through like breaks of refreshment in a wheat-flavored drink.
If you have the taste buds for an American Lager, and albeit your trip to Maui, you still wish to try a variant of the same drink to further enjoy the scenic beauty around you – the Bikini Blonde Lager comes to the rescue. Infused with Pilsner and Munich malts, the accompanying floral hops in the drink make it a wonderful Filtered Munich Helles Lager.
The feel-good drink we have all been waiting for, the Coconut Porter Rum Toddy arrives in all its glory. Made with coffee and chocolate, and rum-soaked with delicious Vanilla bean, this drink has its own unique taste thereby giving it the popularity it so deserves.
The wide variety of choices do not end here. From limited editions of the Island brewed ales and lagers like Maui Lime and Mosaic Lite, to those available all year round like the Big Swell and Pau Hana, you will never be short of options. Not in the mood for beer? Try one of the 4 varieties of island soda. If you still want a more holistic experience then merely tasting beers and sodas, sign up for the Brewery tours which take place on Friday and Saturday. Or you could visit the Brewery Tasting Room too, available for a few hours from Tuesday until Saturday.
Maui Brewing Company Menus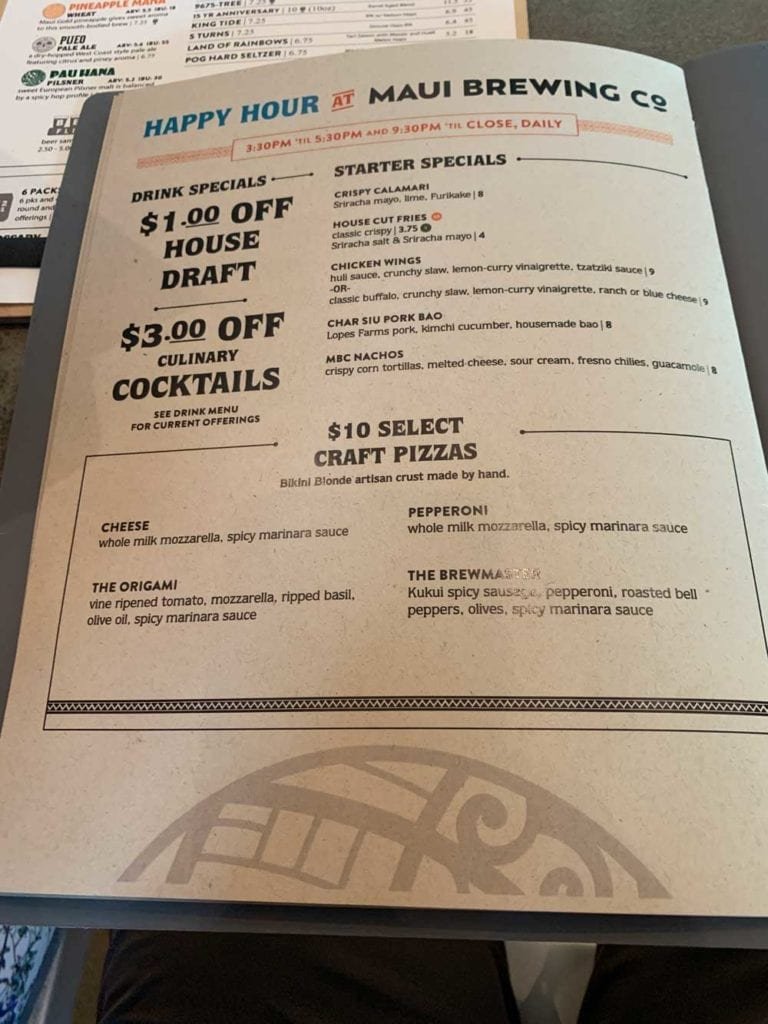 Visiting Maui and are in search of an island-inspired drink true to its roots? A choice from the Maui Brewing Company will certainly not disappoint.