Maui Tropical Plantation
Gorgeous Waikapu Valley Setting 

Although Maui is known for its beautiful coastal landscapes and beaches, there is actually even more than that to see and experience on the island! A great family-friendly option is to visit the Maui Tropical Plantation. Located in the majestic Waikapū Valley, this is a plantation that will absolutely captivate you with its natural beauty and its thrilling activities! Spanning 1800 acres total and with over nine hundred acres dedicated to working agriculture, the Maui Tropical Plantation offers an experience like none other. Visiting the Maui Tropical Plantation is on everyone's list of the best things to do on Maui, including ours.
From learning the origins of the plants and the harvesting techniques that have supported Hawaii's crop industry, to learning the art of husking a coconut, this Plantation has it all. They have bananas, coconuts, sugar cane, coffee, macadamia nuts, papaya and so much more! After learning about how the plantation works, enjoy a thrilling zipline ride and then relax at the Mill House Restaurant -an onsite spot that will refresh the whole family. Read on to learn more about this fantastic and scenic experience will enhance your trip to the beautiful island of Maui.
The Plantation
The Maui Tropical Plantation began as an agricultural hub during Maui's sugarcane era. It was built to showcase the Valley Isle's unique crops. Currently, there are both botanicals and over forty crops that are cultivated on the plantation. These include coffee, macadamia nuts, avocado, and papaya. The plantation itself is free and open to the public. Anyone can enter and walk around. However, to really experience this incredible spot, it's best to take part in the numerous tours and activities. Not only will you experience a more in-depth tour but there is plenty of fun for all ages!
The Tropical Express Tour
For the perfect overview of all of Hawaii's fruits and botanicals, take the Tropical Express Tour! This is a forty-minute open air tram tour. The guided and narrated tour loops around the on-site lagoon and takes you into parts of the Plantation that are inaccessible by just walking. Passengers aboard this tour will also take part in a unique twenty-minute coconut husking demonstration. Learn the land and experience Maui the local way. A great opportunity to see everything the Maui Plantation has to offer!
Maui Zipline
After your tour of the Plantation on land, why not take a tour in the air? The views from the Maui Zipline are fantastic and it's an activity that is well suited for the whole family. Zipline over the crops, tropical gardens and the lagoon. The zipline includes five side-by-side lines and ranges from three hundred to nine hundred feet in length. This activity can take up to two hours, so be sure to plan accordingly. You can find a full catalog of Maui ziplines here.
Plantation Gift Shops
With so much to see at the Maui Tropical Plantation, you'll want to take some of these amazing experiences home with you. This is where the Plantation Gift Shops have you covered! Unique gifts and delicious, local foods that are all made or grown in Maui and that will keep your memories alive even back at home. 
Soley Aloha has everything from art to clothing and all with a unique aloha lifestyle Unique pieces that are designed with a shared love for Maui and everything this beautiful island has to offer.
The Kumu Farms Stand has you covered with all the tropical fruits and produce that you can eat. Although they grow over thirty-five crops on the Maui Plantation, it is their non-GMO SunRise Papaya that is their shining star. Known for its incredible taste and freshness, you can't leave without it! Fill your bag with papaya as well as everything from avocado, guava, mango and so much more!
Then there is The Mill House Roasting Co. This is craft coffee at its best! Roasted in small quantities, these are top quality coffee beans that pack a punch. Grown on grounds of the Maui Plantation by experienced roasters, these beans will uplift your spirits and delight your senses.
The Mill House Restaurant
Throughout your day at the Maui Tropical Plantation you'll definitely have your fill of delicious treats like fresh fruits and coconut gelato. However, when you are ready for a meal, the only place is The Mill House Restaurant. On everyone's list of the best restaurants on Maui, sporting beautiful indoor and outdoor dining spaces, you will be captivated by the beauty of the land while enjoying a meal that honors the founding cultures of island. By using fresh, local ingredients from the plantation, the chef creates dishes with a distinct nod to both heritage and current trends. From the east-facing Sugar Room that looks out to the Haleakala volcano to the west-facing Plantation Room that honors the farmland, both inspire an ambiance of culture and serenity. The Mill House décor and cuisine pays tribute to Maui's sugar-cane history while offering its visitors a delightful place to refuel and recharge.
Maui Chef's Table
This an exclusive event that is only available at The Mill House Restaurant on select weekends. If you are fortunate enough to be visiting during this time, you will be able to experience this unique one-of-a-kind dining concept. An open-concept kitchen allows guests to enter into dialogue with the chefs and their teams as they prepare their culinary art. Guests are encouraged to ask questions and converse as their multi-course meal is being prepared.
A trip to Maui is simply incomplete without a visit to the Maui Tropical Plantation! With so much to offer, it is sure to be an experience your entire group will enjoy. Take the tram tour, fly across the zipline, enjoy a delicious meal and shop to your heart's content. The Maui Tropical Plantation is a combination of history, culture and fun in true aloha lifestyle that will complete your visit to the beautiful island of Maui!
The Highlights
The Maui Tropical Plantation is located in the majestic Waikapu Valley. This fertile expanse is an agricultural hub, event venue, and has attractions for everyone. No wonder why the Maui Tropical Plantation is one of the best attractions on the island.
The plantation offers many event options for parties large and small. This is the premier non-beach wedding location on Maui. You'll definitely want to reach out to the plantation well ahead of time for any events that you're interested in. The Maui Tropical Plantation is a popular destination year-round. There have been over 10,000 weddings that have taken place here over their 25 years of operation. Maui Tropical Plantation proudly supports the LGBT community as it is one of the islands most inclusive destinations.
The Mill House is a masterful craft culinary experience located at the heart of the Maui Tropical Plantation. Influences from the melting pot of cultures represented on the island including Japan, China, Spain, Korea, Portugal, and many other distant lands as well. Experience Maui Chef's Table to be whisked away by the creative minds and innovated techniques that the Mill has to offer. Also, there are other popular stops around The Maui Tropical Plantation. This includes The Scoop, home to many delicious frozen treats, and the Plantation Store where you can find the perfect gift or souvenir.
Directions to Maui Tropical Plantation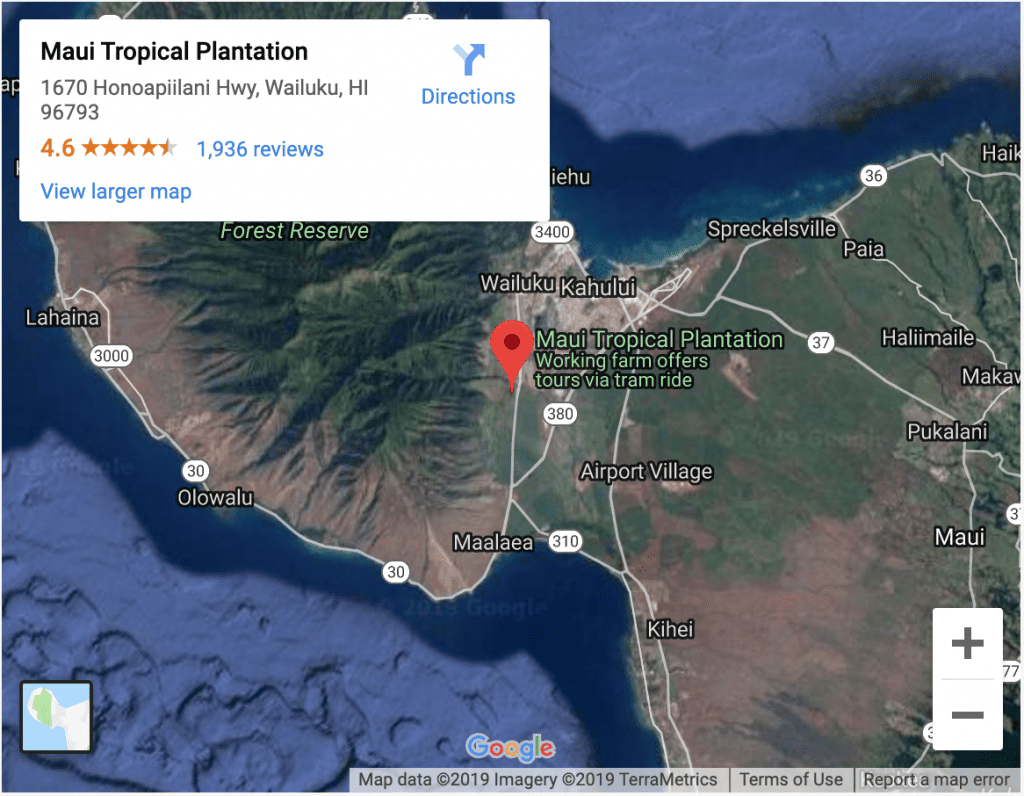 1. Take Highway 30 towards Maalaea Harbor from the Northern side of the island (Kahalui, Hana, etc.)
2. Take Highway 30 towards Kahalui coming from Kihei or the West Side (Lahaina, Kaanapali, Kapalua, etc).
3. Look for mile marker 38.5
4. 1670 Honoapi'ilani Hwy Waikapū, HI 96793