Maui Hikes
Take a Walk on the Valley Isle: Top 5 Maui Hikes
---
Of all of our favorite Maui Things to Do, going for a hike is at the top of the list. It's a great way to get some exercise and connect with nature in a beautiful setting at the same time. We hope you enjoy a short list of our favorite Maui Hikes. Whether you choose to go on a guided tour with Hike Maui or to discover these places on your own, you're definitely in for a good time.
---
There's no doubt about it, this is a tough hike. It is for a veteran hiker ready to put in some work for an incredible experience hiking through a Martian landscape at 10,000ft on Maui. Hikers need to be prepared for a variety of possible conditions ranging from very sunny and exposed, to very cold and wet. Conditions change quickly and without much notice. Pack a rain jacket for sure. We like to make these hikes in our Vibram five fingers, but you'll see many in heavy duty hiking boots with walking poles.
---
2. Kapalua Coastal Trail and Hillside Trail – Kapalua (West Side) – 5 Miles
One of the best-kept secrets on West Maui is the hiking in Kapalua. There is actually a big network of trails that start at the Kapalua Logo Shop next to the driving range and at DT Fleming Beach Park for the Mahana Ridge Trail. You can also park at Ironwoods Beach for the coastal trail that goes through the bird preserve to Cliffhouse. The hillside trail is steep, but those who take this Maui hike are rewarded with a beautiful duck pond and views of Molokai. Every fall the Xterra Maui World Championship games are held in this network of trails, a perfect test of athleticism in a perfect setting.   Hike this trail at sunset for cooler temperatures and a beautiful view of the setting sun.
---
3. The King's Trail – La Perouse Bay (Makena/South Side) – 5.5 Miles
In Hawaiian, the King's Trail on Maui is also known as the Hoapili Trail and is a moderate hike in a very exposed, yet beautiful volcanic landscape. Take your swim gear and take a dip in beautiful La Perouse Bay. Make sure you've got some sturdy footwear, there is a lot of gravel and sharp rocks on this trail. On the way to The King's Trail, you'll pass Big Beach, make sure you also get a chance to check out this beautiful spot.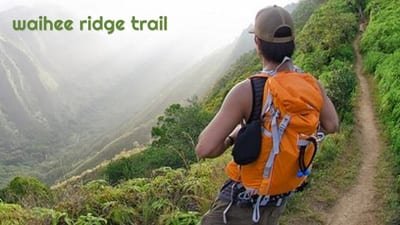 ---
4. Waihee Ridge Trail – Mendez Ranch (Wailuku) – 5 Miles
The Waihee Ridge Trail is a little bit of a drive, but it is in a very beautiful area of Maui. Keep an eye on the weather as this trail gets very slop when it rains and can become quite slippery. It is an in and out trail that goes straight up to a very picturesque vantage point giving a great view of the Northshore of Maui and of Haleakala as well. This Maui Hike is moderate to advanced and is sure to have your calves burning!
---
5. Bamboo Forest – Hana Highway Mile Marker 6.5 – 4 Miles
For the best waterfalls you'll see on any Maui hike, stop at mile marker 6.5 on the Road to Hana. Known as the bamboo forest, this hike has several waterfalls and pools along the way that are perfect for swimming and jumping. There is even a rope swing on one of them. The trail is usually slick as it is in the rainforest, so proceed with caution as you navigate this bamboo jungle.
---