Grand Wailea Luau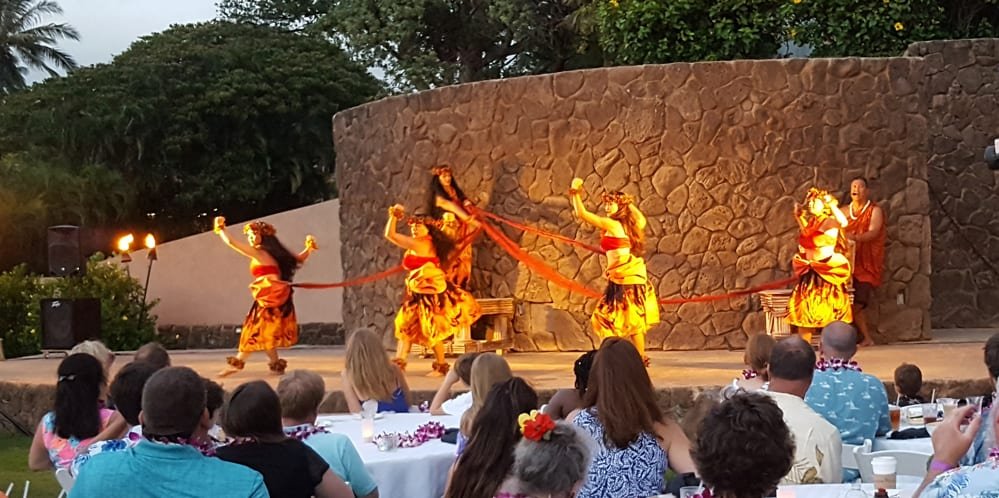 The Grand Wailea Luau also know as the Grand Luau at Honua'ula is a magical experience. This journey to ancient Hawaii takes places at the Grand Wailea Resort. The Grand Wailea has long been regarded as one of the most impressive resorts on Maui. The Grand Luau at Honua'ula is equally as amazing as the resort where it takes place.
The Voyage
The Grand Luau at Honoua'ula is an immaculate ceremony that tells a story of Hawaiian history. The story told here is unlike that of any other Luau. Honua'ula takes guests back to a time when the Polynesians discovered Hawaii. There is a focus on the voyages of those that first came to the Hawaiian islands and landed first on Maui. The tale depicts gods and goddesses that watched over the people. The story speaks of Pele, the goddess of fire, and how she created the islands and the sacred land of Maui for these people.
This Luau has many pre-show activities. This includes, but is not limited too, Lei greeting, Hawaiian lawn games, temporary tattoos, photos, and more. All of this included the dinner and show takes place on the shores of Maui in Wailea. The views at the show are absolutely stunning, some of the most impressive any Luau has to offer. Torches are lit as the Imu ceremony beings. Guests have the honor of seeing the "Kalua Puaa", a traditional Hawaiian dish, removed from the underground oven known as an Imu. The family-style buffet includes food for most dietary needs and there is an open bar too! From the feast to the show the Grand Luau at Honoua'ula located at the Grand Wailea Resort will not disappoint.
If you are looking to attend a Luau while visiting Maui you must Consider The Grand Luau at Honua'ula and Maui Tickets For Less guaranteeing the best deal. Book online or call 855-268-0387
Call Our Toll Free Phone Number At 855-268-0387 Or Click Here To Email Us About Your Maui Activities And Tours.