Rappel Maui
Experience the waterfalls on Maui in one of the most thrilling and immersive with Rappel Maui. Touted as one of the most unique things to do on Maui this tour takes groups to a privately owned and secluded waterfall valley. Avoid the crowds and traffic at your own pace in paradise on the only Rappel tour on Maui.
A Waterfall Adventure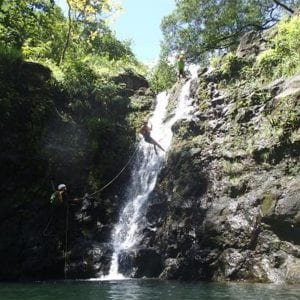 Maui has over 3 million visitors annually. The Hana Highway is world-famous and the public waterfalls and pools can often times get crowded. Rappel Maui has exclusive access to an extraordinary valley. This waterfall adventure takes place in none other than where Steven Spielberg shot the opening scenes from Jurassic Park! Your safety and enjoyment are top priorities during this once in a lifetime experience.
You will get to cruise down jungle cliffs, enjoy the beauty of natural waterfalls, all while engaging in an eco-friendly adventure sport. You will learn to walk down walls of water and rock in one of the most remote places on earth.
Fun and Safe!
The Rappelling equipment that is used on this adventure is top of the line. Specifically designed for the rigors of the sport, Rappel Maui spared no expense to ensure the safety of its patrons. A picnic in paradise is included on every trip. This includes samples of some of the freshest tropical fruit in existence. This exclusive tour allows you to venture deeper into the forest than most areas open to the public. There is no better way to see the wonders that Maui has to offer than in this up close and personal rappelling tour. If you and yours are looking for the most unique and adventurous tour Maui has to offer definitely Consider Rappel Maui and Maui Tickets For Less guaranteeing the best deal. Book online or call 855-268-0387
Call Our Toll Free Phone Number At 855-268-0387 Or Click Here To Email Us About Your Maui Activities And Tours.