Reef Dancer – Maui

Looking for the best reef view of Maui? Reef Dancer is the most fun you can have underwater without getting wet! With over 20 years in operation off the coast of Maui, Reef Dancer is a semi-submersible watercraft with a glass bottom. Reef Dancer has been featured on Good Morning America and has won various awards such as "Best Underwater Viewing in Maui"!
Exploring the Reef!
Reef Dancer provides a unique underwater viewing experience unlike any other in Maui. Glass bottom boats can't get as close to the reef and submarines go to a much lower depth to see other kinds of wildlife. As the only semi-submersible watercraft off of Maui, you will see wildlife that you would need to snorkel, snuba, scuba, or free dive to see.
Certain kinds of fish, varieties of coral, and even octopus prefer shallow water with lots of light. In the air-conditioned underwater cabin, there is no bad seat on the Reef Dancer. Reef Dancer is the only glass bottom boat with surround viewing. This is great because as the craft makes its way around the reef it there will be plenty of viewing opportunities.
Reef Dancer never stays in one spot for too long. This ensures that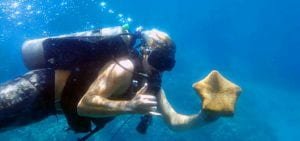 passengers are constantly being shown the best the reef has to offer on a given day. The expert on-board narrator works in tandem with the crew. Reef Dancer has divers that accompany the vessel. As passengers make their way around the reef the divers bring wildlife into perfect view!
Reef Dancer offers both a 60-minute and a 90-minute adventure! If you're looking to check out some great underwater wildlife while staying dry. This is by far the most child-friendly attraction on Maui. Definitely consider Reef Dancer and Maui Tickets For Less guarantees the best deal. Book online or call 855-268-0387
Call Our Toll Free Phone Number At 855-268-0387 Or Click Here To Email Us About Your Maui Activities And Tours.