Calypso Maui Snorkel
For years, dozens of different companies have been taking Maui visitors out to Molokini crater to snorkel in the incredibly clear waters and enjoy a day of fun in the sun. Every company tries to offer something that the other companies don't to make themselves unique. However, you'll find that most of the Molokini snorkel tours are all very similar in terms of what you experience in the water, but they are very different in terms of what you will experience above the water, meaning, the boats themselves are very different. Some have more room for lounging, more comfortable seating, more amenities, more, well, everything. If you were to try them all, as I have, you'd probably agree that the Alii Nui is the most decorated operation. A luxurious sailing catamaran that serves the only full breakfast buffet in the fleet gives its clients a white-glove experience including round-trip transportation from the hotel. Every touchpoint has been considered for the Alii Nui down to the last detail. The beverages they serve, the snorkel equipment they use, even the personal photo and video experience they offer. The Alii Nui also comes with an exceptional price tag as well, even after our discount, its still the most expensive tour out there. So, if you're not looking to spend that kind of coin on your Molokini experience, where is a happy medium between amenities and cost? Calypso Maui has solved that problem for everyone.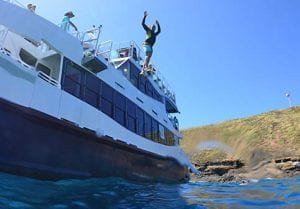 The Calypso Maui, departing from Maalaea Harbor, snorkels Molokini crater 7 days a week. The construction of the Calypso was only completed in 2017 and is the culmination of 30 years of Molokini snorkeling research. Its builders are not new to the Molokini snorkel scene, far from it, they are some of the tours pioneers and they have developed what most people consider the perfect Molokini snorkel boat. Calypso acknowledges that not everyone going to Molokini is going to snorkel for the entire 3 hours of time allotted for snorkeling between Molokini and Turtle Town, so they built a glass-bottomed viewing port room, but they didn't stop there. They also installed large HD TV's around the boat that has live video of what the videographer is seeing underwater, it's like snorkeling without getting wet! They have a jumping platform for those of you who love a little excitement and you can cannonball to your heart's delight. The two heavy-duty water slides are also a fan favorite. With ten, that's right, ten entry steps to get in the water, there is no more waiting to go snorkeling from the boat. As Maui's newest Molokini Snorkel Tour, the Calypso has been getting rave reviews from everyone going out the try this new take on an old favorite tour. For more information on the Calypso, the Alii Nui, or any other Maui snorkeling tours, you can always call us at 855-268-0387. Aloha!