Maui Braces for Coronavirus Impact
Governor issues statement to tourists: Don't visit Hawaii for 30 days – March 19th, 2020
Maui is not immune from the panic sweeping the mainland. Due to growing concerns about the coronavirus, all Maui activities have been suspended for at least 30 days. As many restaurants close their doors, churches also close, gyms, and other 'non-essential' businesses close as well as we enter a difficult time on the Valley Isle. Now, more than ever is a time for us to look out for each other and support each other, not just on Maui, but around the world. Now is a time for everyone to pause and reflect on how we can be better as individuals, better as families, and even better as businesses. We can all assess our impact, assess what was our day to day lives, how we can improve and come out of this thing stronger and healthier than before.
As of March 17th, there are two confirmed cases of coronavirus on Maui. We won't be updating the site as new cases appear, please check here for updates on the confirmed cases. Both individuals are believed to have contracted the virus out of state and are in quarantine or isolation. We have been very fortunate on Maui so far and pray that the less fortunate areas where coronavirus is spreading see relief soon.
As with all major, international health scares, there is a lot of divergent information in the mainstream media, it's important for everyone to do their own research and compare multiple sources of information.
The state is not allowing cruise ship arrivals for the near future to reduce the potential for the virus to hit the Valley Isle and Hawaii, restaurants and public places are closing. At this time Haleakala National Park is closed for sunrise.
Are You Visiting Maui Soon?
You've waited for your dream vacation to Maui for months. After carefully making all the arrangements for your flight, booking a hotel, and reserving a rental vehicle– you started to breathe easy and let yourself get excited visiting Maui. You even scoped out the best restaurants to eat at on Maui, what beaches to visit, and the activities to do while you are here.
Then the unexpected headlines surrounding the coronavirus start to bubble up everywhere…
With all this excitement surrounding your much-anticipated trip to Maui, things started to change after the past few weeks with the media flooded with headlines about the coronavirus. The headlines start to spark some fear or worry. In thinking about your upcoming trip, you start to ask yourself, "Is the coronavirus on Maui?" "Should I still fly to Maui?" or "How can I protect myself from getting the coronavirus?" You spent so much time and effort planning your trip to Maui and now you are wondering if you should go.
For Our Clients
If the coronavirus has affected your travel plans, contact us immediately and we can make the necessary alterations to your activities. All of our refund policies are still the same and as long as we cancel more than 48 hours from the beginning of your activity you will receive a full refund. For instance, if you have a Maui luau for next month and you would like to wait to cancel, you can wait up until 48 hours before it begins to make the final decision.
All of these are important questions to ask and the fact that you are reading this article means that you are looking for answers specific to Maui to get the details on what's happening locally. This article is written to answer your questions with what we know so far about coronavirus COVID-19 and how we can help you make informed decisions about your upcoming trip to Maui.
What Exactly is the Coronavirus Disease COVID-19?
According to the United States Center for Disease Control (CDC), "Coronavirus disease 2019 (COVID-19) is a respiratory illness that can spread from person to person. The virus that causes COVID-19 is a novel coronavirus that was first identified during an investigation into an outbreak in Wuhan, China." It has now spread across the world, as viruses do, and we are getting an idea of the impact its having. First, it appears children and healthy adults aren't particularly vulnerable, which is a silver lining, but elderly folks are. If you've been in an area where you may have contracted it, don't visit elderly people during this time.
Why is it Called the Coronavirus Disease COVID-19?
You've heard it simply called the coronavirus. You've seen it in other places referred to as COVID-19. Throughout this article, you will see it written about coronavirus disease COVID-19. So what is it called and what does COVID-19 stand for? On February 11, 2020, the World Health Organization (WHO) announced an official name for the disease that was causing the 2019 novel coronavirus outbreak, first identified in Wuhan, China. The WHO decided the name of the disease is coronavirus disease 2019, abbreviated as COVID-19. In COVID-19, "CO" stands for corona, "VI" for the virus, and "D" for the disease.
Is The Coronavirus on Maui?
Yes. Fortunately for the island of Maui we have only had two cases and both are stable and isolated. As of March 17th, 2020, there are 10 confirmed cases of coronavirus disease COVID-19 in the state of Hawaii with no deaths.
How Does Coronavirus Spread?
According to the CDC, person-to-person contact is thought to be the primary way the disease is spread.
-Between people who are in close contact with one another (within about 6 feet).
-Through respiratory droplets produced when an infected person coughs or sneezes.
-People are thought to be the most contagious when they are the most symptomatic (or sickest).
What Are The Symptoms?
-Fever
-Cough
-Shortness of breath
-Symptoms may appear 2-14 days after exposure
How Can I Protect Myself From Coronavirus?
-Wash your hands with warm soap and water for at least 20 seconds. (We recommend singing some verses of IZ's version of "Somewhere Over the Rainbow" to make sure you've washed them long enough!)
-Avoid touching your eyes, nose, and mouth with unwashed hands.
-Don't get too close to people who are sick.
-Take it easy at home or in the hotel if you are feeling under the weather. Get plenty of rest if you aren't feeling well!
-If you have to sneeze or cough, grab a tissue for it. Then dispose of the tissue in the trash and wash your hands.
-Clean and disinfect commonly used surfaces with regular household cleaning sprays or wipes.
Should I Travel to Maui?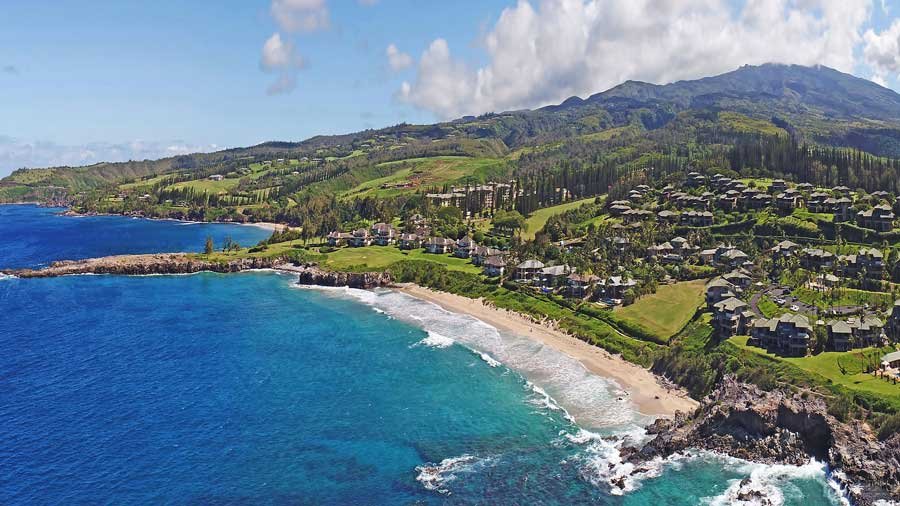 At this time, no, you should not travel to Maui. The Governor, and most states, are advising against travel for 30 days. According to the CDC, the current risk assessment is high.
Am I at Risk From International Tourists on Maui?
Maui is a popular tourist destination and last year Maui welcomed over 3 million people visiting the island. However, the demographics of those visiting Maui may surprise you. According to the visitor statistics provided by the State of Hawai'i, roughly 85% of people visiting Maui are from the continental United States and the largest majority of international visitors are from Canada. With the Canadian travel ban and many being warned in the US to not travel, we can expect significantly fewer visitors to Maui in the short term. Update: Match 19th, the Governor has advised all visitors to postpone all trips for a period of 30 days. See the article here. Governors Statement
What is the Vibe Like on Maui?
Being a Hawaiian island in the middle of the pacific ocean, Maui is lucky to be a little more insulated from the media blasts and panic of other places. As of today, people on Maui are spending time outdoors either walking along the beaches and sightseeing around the island. As places where we people gather close, we definitely see a lot more people a the beach.
I'm still worried about the coronavirus disease COVID-19 and traveling to Maui….
We get it and it is completely normal to feel stressed, confused, worried, or just plain old freaked out. However, there are ways to cope with stress or worry that you may be experiencing:
–Talking to people you trust can help, like friends and family. It can be easy to get all in our heads about this but sometimes we just need to talk to the people we trust. Saying your worries out loud or even writing them down can help relieve some of the stress you may be feeling.
–Maintain a healthy lifestyle including a good diet, sleep, exercise, and spending time with loved ones. What better place to do this than Maui? There's lots of amazing cuisine on Maui, beaches to relax on, and lots of opportunities to try exercise or try a new sport like surfing or paddling boarding. With no cases reported on Maui, you should be able to be at ease while you take the time to enjoy all that Maui has to offer and have fun on your vacation.
–Get the facts. Gathering information from trusted sources will help you determine your own personal risk and allow you to make better decisions based on information from credible sources like the Center for Disease Control (CDC), World Health Organization (WHO), or state or local public health agencies.
–Disconnect from the media and spend more time outdoors and in nature with family and friends. Maui is a great place to escape from television, media, and the articles popping up in your newsfeed spreading panic. Unplug and enjoy the pristine beaches of Maui or venture out to one of the many waterfalls found on Maui surrounded by rainforest.
The Coronavirus and Maui: Final Thoughts
We recognize that traveling to Maui requires planning ahead, coordinating schedules, and saving up those hard-earned dollars to have your dream vacation. We hope that this article has armed you with the facts and the current update on coronavirus disease COVID-19 status on Maui. We recommend that you follow the State's guidance and delay your upcoming travel plans for at least 30 days and come see us this summer!
Disclaimer: This article was written on March 4, 2020, and most recently updated March 17th, 2020. Sources for this article include the Hawai'i Department of Health, Hawai'i Tourism Authority, United States Center for Disease Control, and the World Health Organization and is believed to be accurate at the time of posting. These findings are in no way intended to encourage travel during this time.