Hike Maui
Guides and Fleet
Hike Maui is one of Maui's best Activities Company. With operations spanning over 35 years ago, Hike Maui is an expert in land tours. This incredible company is open 365 days a year making it possible for anyone interested to enjoy their offerings. With Bike Maui, everything is taken care of for you. The company provides it's guests with meals, as all as any necessary gear for the adventures ahead.
One of the greatest advantages of Bike Maui are the tour guides. Each of the guides is certified in CPR and First Aid Training. In addition, the guides have also certified in wilderness training, maritime security cards and National Park hiking permits. The tour guides that you will work with while touring with Hike Maui are all hand-selected. In addition to all of the ways these guides keep you safe, they are very entertaining! If you wanted to jump of water waterfalls, discover more about the rich Hawaiian culture, local history, native botany, or learn how to identify and pick native fruits, these guides will share their sage ways with you.

Land Vehicles
As part of the Company's Commitment to making sure that their guests are as comfortable as possible, tour sizes are kept to a maximum of 12 guests, although the vans can accommodate 15.  The vehicles are also all commericially ensured and PUC Certified. Guests also have the peace of knowing that each van is cleaned and washed daily, and air conditioned for greater comfort.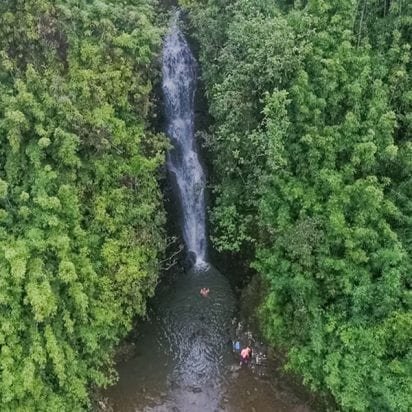 Destinations
Touring with a well known and experienced company such as Hike Maui has many advantages. One of this advantages is the knowledge of the island itself. Because Hike Maui and it's tour guides have such extensive knowledge of the island, you as a guest are able to see some of the most spectacular hiking spots on Maui.
Hana
Hana is an incredible part of Hawaii. Many of the Locals consider this location to be the real Hawaii. This part of the island is still largely untouched and unchanged. Some of Hawaii's most precious secrets and beautiful sites exist only here. Hike Maui is one of the best ways to navigate this special place where ancient kings once bathed and the The Seven Sacred Pools acquired both their meaning and their name. This tour consists of a 2.5 hour back country ride. You will experience tropical rainforests as well as incredible lava beds. You will get to experience the magic of Hana's bamboo forest as well as the Kipahul Valley, Home to Maui's quintessential waterfall. The entire Tour is 11 Hours long. But every magical moment is memorable and timeless.
For those who can't commit to a full 11 hours, the Hike East Maui Tour is the perfect alternative. This tour still explores a large portion of the full Hana Tour. Instead of being a full 11 hours, this tour is 5 and a half hours long,  making it perfect for a half day adventure. You will get to see Maui's famous twin falls waterfall, as well as several other waterfalls and natural swimming pools.
Makena
Hike Maui is one of the only tour companies able to take you both kayaking and hiking in a single day. The Hike Maui Kayak and Waterfall is the perfect tour for those who want to experience land and sea. This 7 hour tour will start out along the Makena Coast. You will get to take a light kayak paddle trip to an amazing spot where you can snorkel. The locations is full of colorful reefs, and incredible tropical marine life. After the morning snorkel is complete, you will be lead to East Maui for a half day Hana trip. Enjoy the blending of the pristine sea waters, rich bamboo groves and pristine waterfalls available through this unique combination tour.
Haleakala Crater Tour
The Haleakala Crater in Haleakala National Park is on of the absolute best views in Maui. Reaching heights of over 10,000 feet above sea level,Mount Haleakala is a place where you can see some of the best sun rises and sun sets anywhere. This 4-mile  Haleakala tour explores three different incredible locations over 8 hours. One stop is the Hosmer's Grove, an ancient Hawaiian trail where you will learn the history of the crater and surrounding areas. Another stop is the Halemau'u trail, towards the rim of the crater. From you you can get a perfect vista view of the pacific. The last stop is the Sliding sands, which, actually take you down inside the crater. The desolate landscape and powerful winds will breath life into the Hawaiian legends you heard along your tour.
With so many options to choose from, Hike Maui makes exploring the beauty, history, and peerless forces of nature that embody the fun of the Hawaiian islands easily accessible, no matter How much time you have.
Call Our Toll Free Phone Number At 855-268-0387 Or Click Here To Email Us About Your Maui Activities And Tours.