Polynesian Adventure Tours

Company and Guides
Polynesian Adventure Tours is one of Hawaii's most diverse Activities Company. Established in 1977 in Oahu by Bob George and Don Brown, this company has expanded to provide excellent tours across the Islands of Maui, Kauai, and Big Island. Polynesian has earned it's claim to fame as the biggest tour coach company on the Hawaiian Islands. It also also one of the rare companies that allow groups to book private tour charters.
The tour guys that you will encounter while touring with Polynesian Adventure Tours really bring the concept of Aloha to life. This company makes great strides to ensure you feel part of their Ohana(family) Not only is each guide knowledgeable about local traditions, inter-island dynamics, ancient Hawaiian history, they are personable, warm and entertaining.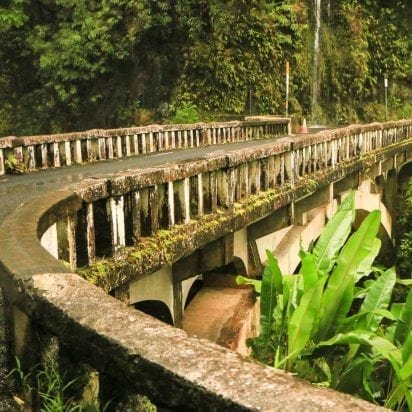 Destinations
Touring with a multi-island company such as Polynesian Adventure Tours can make the quality your multi-island experience  consistent and hassle-free. Deciding to have your accommodations on one island does not preclude you from exploring the wonders of the other islands when you book with Polynesian Adventure Tours
Hana
The road to Hana is an amazing adventure on in its own right. With over 25 points of interest, it is definitely one of Maui's special treasures. Polynesian Adventure Tours takes the road to the next level. With their Polynesian Adventure Tours-Road to Hana Gold Trek. You can explore Hana in a very unique way when you book with this magnificent company. One incredible stop is Hana Bay.  Here you will be introduced to the only trail that leads from the dock to this beautiful remote location. At the end of this incredible hike you will get to see the charming quaint light house that helps manage all the ship traffic.
Lunch
In addition the numerous points of interest you will get to visit, the company provides a very robust lunch for it's guests. Lunch is served at the incredible Travessa Inn. Long coveted for it's location and amenities, Travessa end is the place to stay in Hana. Lunch will consist of delicious Mixed Green Salad, Jasmine Rice, Chicken Thighs with Pineapple Salsa. For Vegetarians there is the Hana Vegetable Pasta Primavera Option. For dessert you will enjoy the Travessa Inn's house made cookies. There are also several beverages available upon request.
Pearl Harbor
The Polynesian Adventure Tours -Pearl Harbor Tours from Maui is a moving and captivating experience that will take you back through the annals of history to a time when the world was at war. This incredible tour, made possible through a joint venture with Hawaiian Airlines, is something you will want to experience. Some of the places you will get to visit include Arizona Memorial & Battleship Missouri, The
Punch Bowl National Cemetery of the Pacific & Court of the Missing. You will also visit Kawaiahao Church, The State Library,  and City Hall. There are over ten moving sites that you will explore on this amazing tour. The monument is a testament that the tragedy, sacrifice, and hard-won victory that embodied WWII.
Haleakala Tour
Many companies offer tours to Haleakala, the inactive volcano on Maui, but Polynesian Adventure Tours has something unique. Not only will this company offer you a morning sunrise tour, it's the only company to offer a sunset dinner tour. The Sunrise Tour will provide you with a new found sense of awe. In addition to seeing the gorgeous beauty of our mother star's first rays of light, you will be standing at the highest point on the Hawaiian Islands. In addition to  Haleakala being the highest point in Hawaii, it is also the highest free-standing mountain in the world. Being over 33,000 feet above sea-level, this mountain trumps even mount Everest.
Dinner
If you prefer to see sunset, The Sunset Dinner Tour is unbeatable. For those who are not early birds, this tour makes the most sense. Sunset at Haleakala is as impressive as sunrise. In addition, this tour provides guests with a 3-course dinner at Café O'Lei at the Dunes of Maui Lani in Kahului after the tour.  Your meal starts with a delicious caeser salad. For entree's your option will include Lightly Blackened Mahi Mahi Ginger butter sauce, papaya salsa, steamed rice, sautéed vegetables Macadamia Crusted Chicken Lemon-caper butter, steamed rice, sautéed vegetable Sesame Crusted Tofu Stir-fry quinoa and vegetables . Dessert includes Brownie Sundae Whipped cream, caramel and Kona coffee ice cream.
With so many options to choose from, Polynesian Adventure Tours makes exploring the beauty, history, and peerless forces of nature that embody the fun of the Hawaiian islands easily accessible, no matter which island you stay one.
Polynesian Adventure Tours is a great experience for everyone in the family to enjoy.  Maui Tickets For Less guarantees the best deal. Book online or call 855-268-0387 to start your adventure.
Call Our Toll Free Phone Number At 855-268-0387 Or Click Here To Email Us About Your Maui Activities And Tours.